These three small towns are close, and you can stay at one and still visit the other two.
Aus is a little desert town. This is an excellent location for stargazing, resting, and taking in the scenery because of its spectacular mountains and sunsets. It is also known as the coldest place in Namibia.
Luderitz is a beautiful German colonial town on the Atlantic coast. Its most visited spots are Felsen Kirche, the colorful buildings on Kirche street, and the harbor.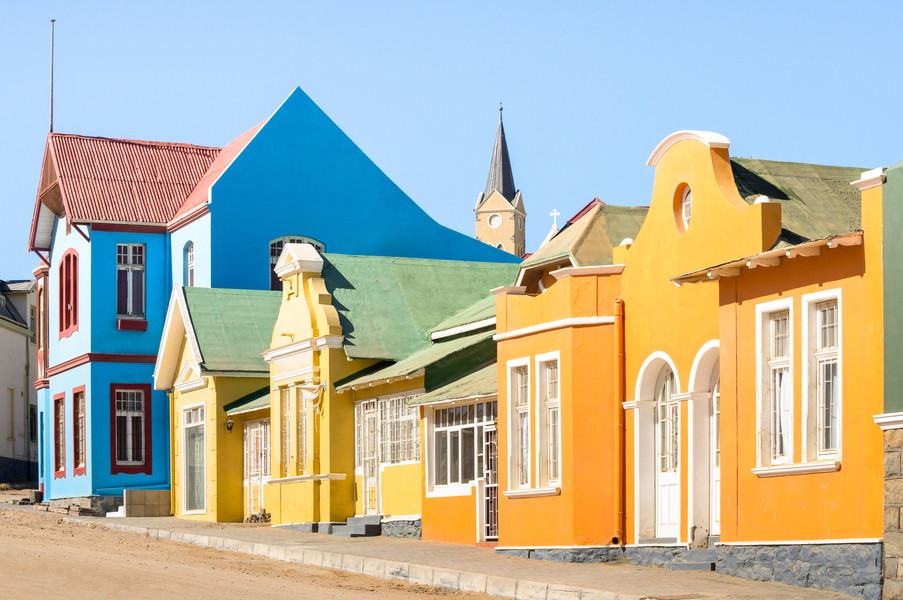 Kolmanskop is an abandoned building town that is slowly being reclaimed by the desert. It used to be a diamond mining town and got abandoned when fewer diamonds were found. It is also known as Ghost Town.
Places to stay in Aus, Luderitz & Kolmanskop: 
1. Klein Aus Vista
Address:  On the B4 main road to Luderitz, Aus
Contact Details:  063 258 116
Website:  https://www.klein-aus-vista.com/accommodation/desert-horse-campsite/
2. Luderitz Nest Hotel 
Address:  820 Dias St, Luderitz
Contact Details:  063 204 000
Website:  https://nesthotel.com/
3. Alte Villa Gastehaus 
Address:  Klippen, Luderitz
Contact Details:  +264 811 29 5259
Website:  https://www.altevilla.na/
4. Obelix Guesthouse 
Address:  Old Bay Rd, Luderitz
Contact Details:  063 203 456
Website:  https://www.obelixguesthouse.com/
5. Oceanlife Accommodation Luderitz 
Address:  289 Bismarck, Luderitz
Contact Details:  081 257 8507
Website:  https://www.facebook.com/OceanIifeAccommodationLuderitz/